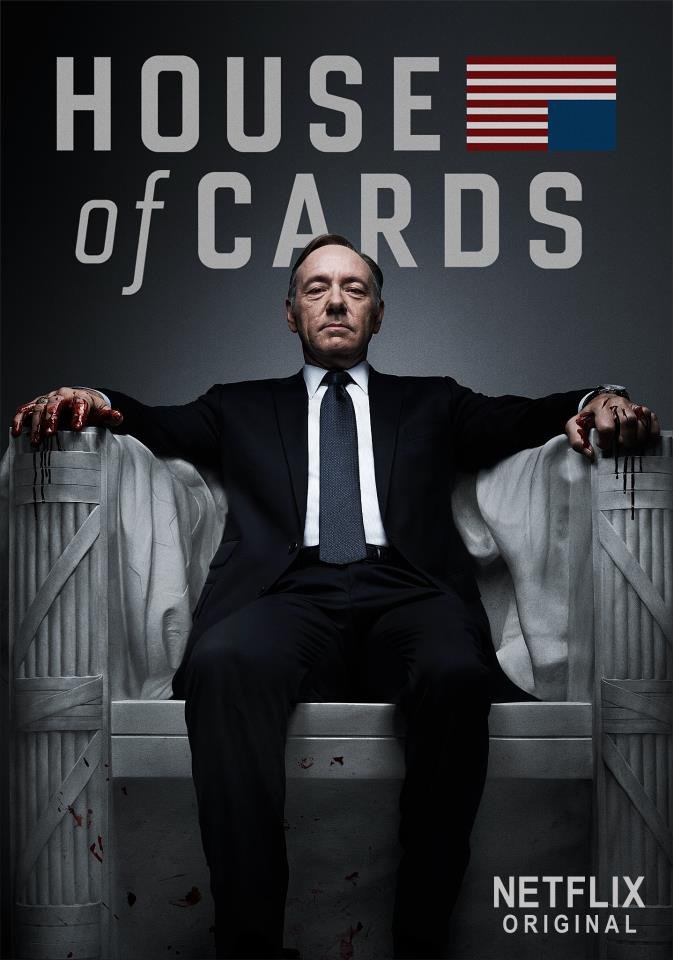 "House of Cards" will go down in television history as a landmark: the first series to have an entire season's worth of new episodes made available at once. Released February 1 by Netflix as the first in its line of original programming, the show is specifically designed for binge viewing: episodes don't even begin with the traditional recap of prior episodes, making the assumption the viewer just watched them recently.
On Friday, MarketCast released the results of a survey of 1,022 U.S. TV viewers, ages 13 to 49, about "binge viewing" (the survey was fielded February 10-12, 2013).
Binge viewing – the term in its current sense of "watching episodes of a TV series back to back" dates to 2002 – is even more common as a behavior than as a buzzword. In the MarketCast survey, only 22% of respondents were aware of the term, yet 67% had binge-viewed TV shows in the past.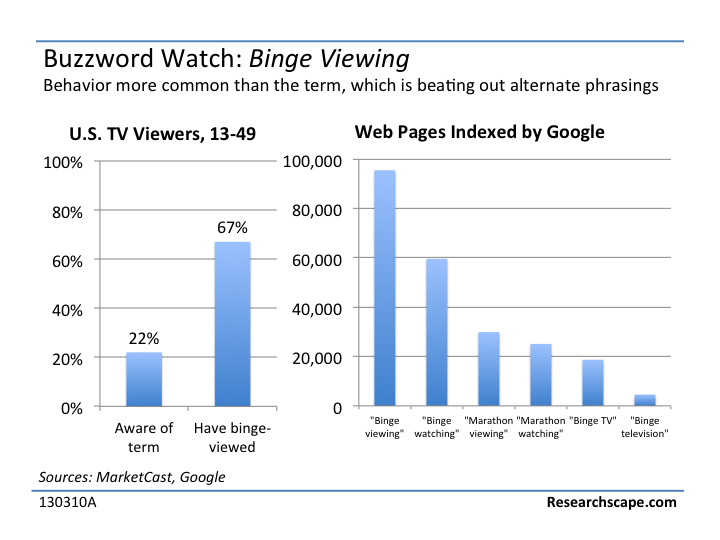 A broader study by Frank N. Magid Associates surveyed Americans aged 8 to 66 and found that a "majority" of respondents have binge-viewed television shows.
Cable channels and streaming services observed the phenomenon first, with their wealth of behavioral data. According to Comcast, as reported in CED Magazine, in one month in 2012, the average viewer of "Grey's Anatomy" watched 20 episodes of the show that month. And Netflix found that 74% of viewers who watched a single first-season episode of "Breaking Bad" ended up watching every available episode through the fourth season.
Who is binge viewing? As reported in Variety, MarketCast found the peak among Generation Y viewers, with ~78% of 18 to 29 year olds having binge viewed, compared to 52% of 13 to 17 year olds and 67-70% of thirtysomethings (incidentally, a show not likely to have been binge viewed) and 56% of viewers in their 40s. Similarly, Magid found that 70% of those aged 16 to 35 were binge viewers.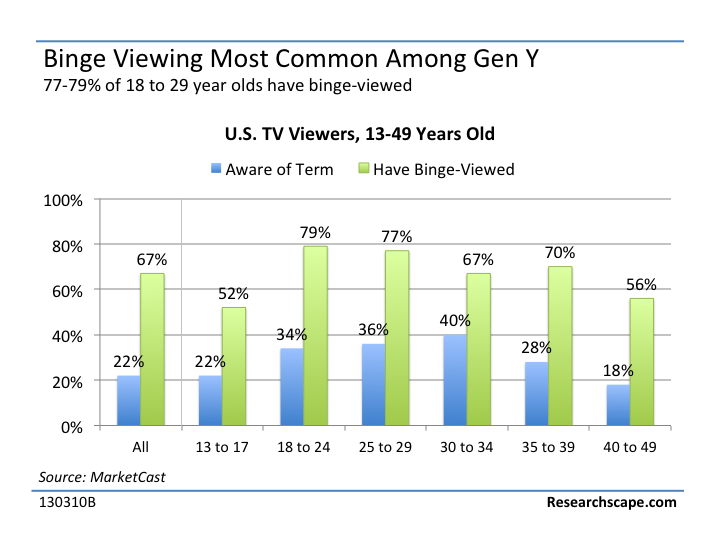 The rise of binge viewing has led to some myths, which data from the MarketCast study helps refute.
Myth #1: Binge viewing cannibalizes live television watching – MarketCast found that ~60% of respondents binge view "only sometimes" or "rarely". And recall that Nielsen found that 87% of broadcast TV is watched live and 98.9% is watched in its first week of availability. According to MarketCast, 48% of binge viewers "strongly agree" that binging gets them caught up on a television series and excited to watch new episodes when they are broadcast. Binge viewing a series increases a viewer's commitment to that series, with such viewers reporting a higher interest in watching new episodes of that series than viewers who have not binged on it. The series "24", "Lost", "Homeland", "Downton Abbey" all soared to viewership heights after capturing new audiences who had binge-viewed these series on DVDs, by DVR or by streaming.
Myth #2: Binge viewing is a boys' club – MarketCast found little difference in behavior based on gender. Both genders binge view at the same rates, though the majority of those who say they will binge view to the exclusion of regular television watching are men under 30.
Myth #3: Binge viewing is all about streaming – There are many ways to binge on a series: 58% is done through streaming services over the Internet, but 42% is done on a television network, with the remaining 10% coming from DVRs, DVDs, Blu-rays and network websites.
Myth #4: Binge viewing will become the primary method of watching TV – MarketCast found that only 5% of viewers who binge view shows claimed that binge-viewing was the only way they would watch television, though 17% "strongly agree" that once they start binge-viewing a show that is the only way they will watch future seasons of that show.
Myth #5: Binge viewing is just a fad (for people on the opposite extreme) – In fact, 60% of viewers interviewed by MarketCast expect to binge view more in the future, and 86% believe binge viewing is a major change in how people watch television.
And here's one that is not a myth:
Binge viewing is a guilty pleasure – Yes, 58% of binge viewers watch alone, and 71% report that binge-viewing sessions are mostly unplanned. Where are people binge viewing? 98% watch at home, while 13% binge view on airplanes.
Clearly, binge viewing is here to stay. Netflix already plans on following up on its "House of Cards" model. It will deliver 14 new episodes of "Arrested Development" (canceled in 2006 by Fox) all at once in May, in the hopes of creating even more binge viewers.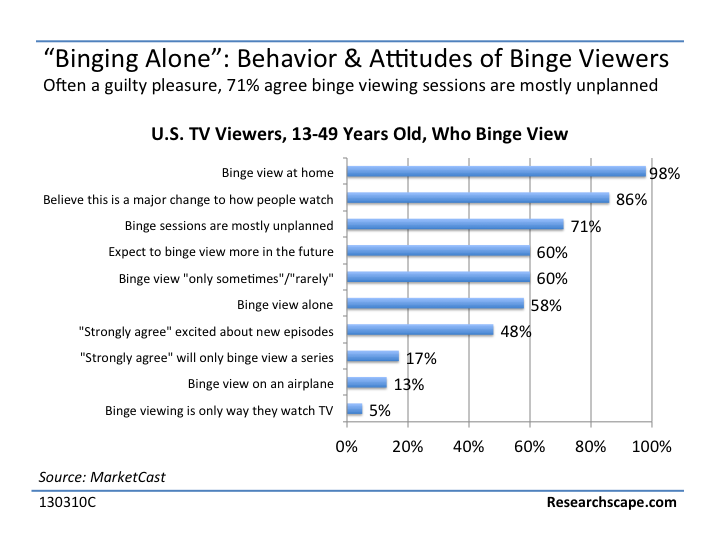 Have questions about this topic or other ways consumers are changing? Contact us and we'll help answer them for you.