In our survey of sports superstitions, we thought that respondents would be more willing to discuss other people's superstitions than their own. In fact, the average answer was 13 words long when discussing others, compared to just 9 words long when discussing themselves.
While 56% of respondents said they took no actions with the idea of improving their team's chances, most people had friends with superstitions. The exceptions follow:
"I don't hang out with people with sports superstitions. It's a form of mental illness that luckily my friends and family are immune from."
"My people tend not to have sports superstitions. I can't think of one."
"That anything done at home can influence the game."
"I don't know anyone who actually believes any of that stuff."
"I don't think any of my friends have sport superstitions."
The most popular superstition that people admitted to believing themselves, at 20% of respondents, was the need to watch the game with certain people. Unfortunately, there were no good anecdotes about this sentiment: "If a certain member of the family is not watching the game, our team will lose."
However, fans did discuss the numerology of watching:
"Number of people watching, if there are enough we can win."
"If we are a crowd watching, we can win."
While respondents didn't name the people in their lives who were lucky charms, they did name the people whose presence was verboten. (A fear only 3% of respondents admitted to.)
"I won't let my husband watch Duke games because they always lose when he watches."
"That my wife is a jinx for our favorite team for losing."
"I won't let my wife step foot in the basement, as bad things happen when she does."
"I heard someone say that every time his brother came into the room his basketball team started losing."
Superstitions around Clothing
The second most popular self-­reported superstition was wearing certain clothing (17%). This was a favorite topic when it came to other people's superstitions.
Full regalia:

"My father-­in-‐law, a Broncos fan, puts out all of his Bronco belongings before every game. He also wears the same Bronco outfit every game."
"I have a family member who makes his whole family, even his two dogs, wear Auburn football gear for two days before an important game (like the Iron Bowl)."

Mementos:

"My father wears an old fishing hat every time he watches a sporting event on TV, he states that if he doesn't wear it his team will lose."
"My dad always wears the same jersey for every game. It is 20 years old."
"I've heard of a fan wearing their 'lucky underwear' during big games. They were pink with hearts. He is a grown man."

Changing your luck by changing your clothes:

"Changing shirts during half time to a 'luckier' shirt while watching…at home."
"Changing T-­‐shirts mid-­‐game if losing."
"This is a pretty common one, but I think 'rally caps' (turning your hat inside out in hopes for a comeback) are the dumbest superstition I've seen… especially in public (sports bars, etc.)."
"Wearing a hat inside out so that a team could score."
"Turning various articles of clothing inside out during the game."

Avoiding the laundry:

"My boyfriend won't wash his jersey at all during the regular season. He thinks that if he does, it will bring bad luck."
"I live in Pittsburgh. I know people who own Terrible Towels and refuse to wash them…ever! So gross!"
"Wearing the same socks without washing them."
"Wearing the same clothes for every game and not washing them in between."
"While on a winning streak, my uncle will not wash his 'lucky' underwear which he only wears on game days."
"Don't wash your jersey game day."

Dressing in advance:

"My 12yo son has to wear his jersey the day BEFORE the game. I wear a certain pair of earrings."
"Fans wearing their football jersey 2 weeks before the game."
Taboos
While 10% confessed that they must watch the game for the team to win, respondents didn't have much to say about this superstition in others: "Not leaving the TV screen throughout the entire game (includes sitting through all commercials)."
Almost as many reported that they avoided saying certain things (9%), and these taboos drew a lot of commentary:
"I've only heard of one, so I guess it's the silliest, even though it isn't: If you say that you're team 'has it all tied up' or the other 'team has lost this', it's bad luck and can jinx the result."
"That saying a team is about to win will jinx the game."
"Don't say that a particular player hasn't had an injury."
"If you say it, it will happen."
"My friend doesn't allow her husband to say her team is going to win at the end of a game."
"Don't assume things."
"I'm convinced in close games I have to be pessimistic about them winning. If I think they have a chance their chance of winning goes down."
Food Traditions
Usually food traditions are about bringing luck, but one fan conducts ovomancy—"I have a family member who makes fried eggs the day of the game. If one of the egg yolks break, he's convinced his team will lose." Another looks for omens—"If you break a glass your team will lose." And then there are aspirations—"If we drink too much, we can win." The 8% who reported eating specific foods or drinking specific beverages were thinking of rituals:
"Eating a particular meal before a game."
"A friend of mine always has to eat at Applebee's before his team plays, he thinks it gives them luck."
"Going to Starbucks, buying a specific coffee. Listening to specific music… Eating specific foods…"
"My friend would take a gulp of water but not swallow right before a field goal or extra point."
"I have a friend that would gargle water in his mouth whenever he wanted a person to miss a shot in basketball."
"That if they eat a different snack or have a different drink while their team is playing their team will lose."
"Not eating or drinking while the team is doing something good."
"My friend will not eat at all before or during a game."
"I have heard of people needing to serve/eat only certain snacks during the game."
"Eating specific foods will have an impact on the outcome."
"Drinking beer at a kickoff."
"Drinking a beer with your left hand will help the kicker make field goals."
"Drinking breast milk on every first down." (Ew, what?!)
Everything in its Place
While 4% have to sit in certain location, everything needs to be in its place:
The fans:

"I have a friend who sits at the same stool at a bar while watching a college team."
"I had a friend who's favorite team won a playoff game while he watching a particular sports bar, so he had to watch every subsequent game at that bar."
"That people have to all sit in their lucky chairs or spots in their homes."
"Can't move when the team's doing well."
"If you climb over someone, or step over them you have to go back the same way or you both have bad luck. Same with if you come in one door of the house, you need to go back out that door."

The objects:

"A friend of mine once had three pennies that had to sit on the floor in a certain space during the Super Bowl."
"My brother will leave all of his empty beer cans on the coffee table in the exact spot he put them when he finished. He believes to move any of them puts a jinx on the team."
"I have a friend who leaves her team's Christmas decorations up all year."
Don't Watch!
While there was little self-­‐reported behavior about not watching game to ensure the team would win (self-­‐reported by 2%), there were a lot of anecdotes about others:
"Every time my mom would watch the Saints, they'd lose. One season she worked a lot and wasn't able to watch the games -­‐ they won the Super Bowl."
"Whenever the Dallas Cowboys are playing a game and they are not playing very well, my neighbor goes out on his porch and stands there for about 10 to 20 minutes, then he comes back in his house and the Cowboys for some strange reason 'sometimes' plays better."
"Not watching the game because the person thinks they are bad luck because the team lost when they watched a previous game."
"Walking away from the TV and listening during a critical play."
"I think it's very silly when people say that their teams play better when they just don't watch the game at all."
"That they have bad luck when they are watching the team they like."
"That if a person watches the game the team will lose."
"That if I watch the game my team will lose."
"Nothing in particular. Just that my team does better when I am not watching."
"If the team they're rooting for is losing, they don't watch for a while expecting the team to do better."
"I would for some reason believe that on certain occasions if I watched the team would lose."
"I know of a friend who doesn't watch a game live because he thinks that their team will lose if he does."
"If I watch the game, my team will lose."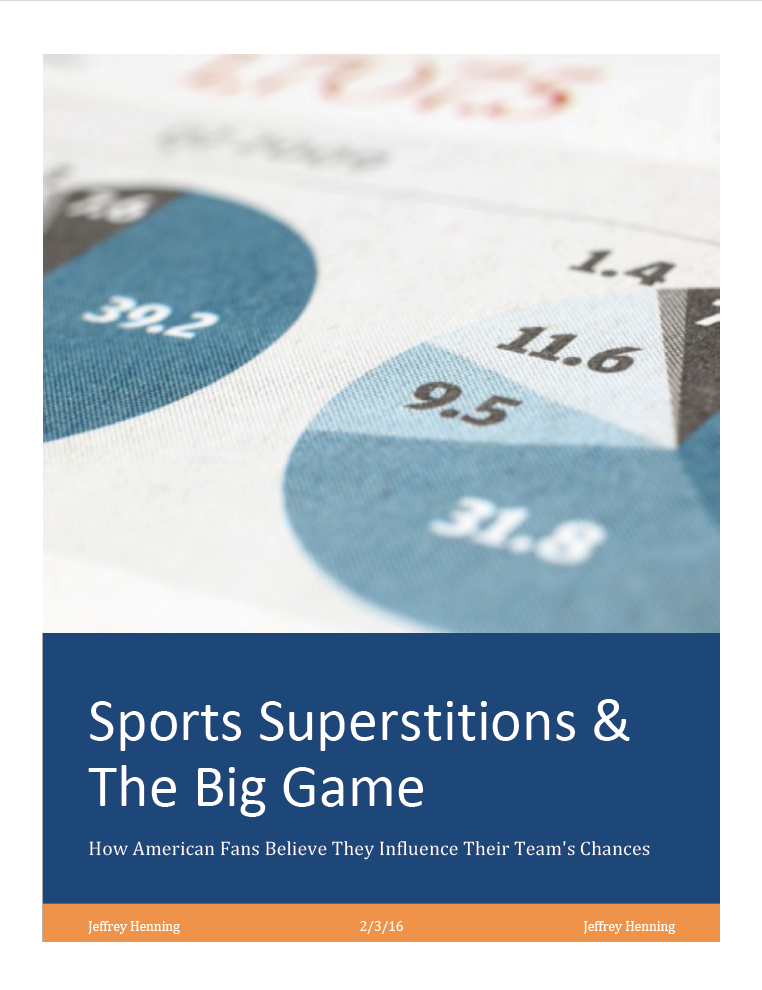 This is an excerpt from the free Researchscape white paper, "Sports Superstitions & The Big Game". Download your own copy now: