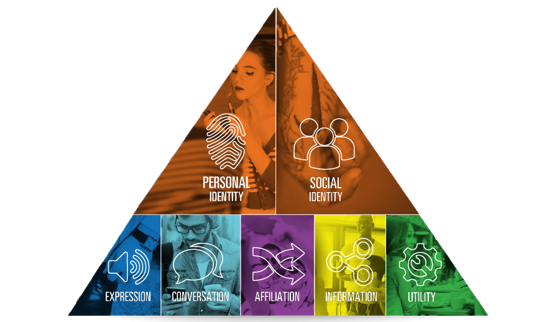 Vivaldi Partners presented at the NY AMA to a capacity crowd at the Scandinavia House in New York City. The topic of "social currency" was explored by the panelists from Saks 5th Avenue, AB InBev, and Cadillac.
Each attendee received a gold envelope with a "key" (USB compatible) that contained the research report, published in August 2016. The report was developed by Vivaldi in collaboration with Chadwick Martin Bailey.
The definition provided was "Social currency measures the ability of brands to fit into how consumers manage their social lives in today's digital and mobile age."Along one wall of the presentation room the "7 Social Currency Dimensions" were lined up, mounted on poster boards. They are:
How much my relationship to the brand plays into my self-image and self-esteem.
How much I feel a sense of belonging or kinship with others who use the brand.
How much the brand facilitates communicating who I am.
How much the content shared by/about the brand engages me.
How much the brand helps me forge new social connections or relationships.
How much other people help me discover, evaluate, and make decisions about the brand.
How much my engagement with the brand or its customers enhances the value I get from the brand.
One of the key facts presented in the slide deck was the statistic that "97% of companies have launched digital transformation efforts and yet 70% of these transformation efforts are expected to fail." (Survey of Senior executives, The Economist – SAP Study, 2016.)
This finding resonated strongly with me as a regular conversation topic with clients and colleagues. It reinforces the premise that agile, iterative market research is essential to maintaining a vital, ongoing engagement with customers. A comprehensive, often very expensive annual study no longer suffices.