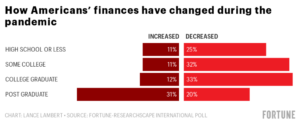 The COVID-19 coronavirus has had a serious impact on many American's lives, as a poll conducted by Researchscape of 3,113 US adults found that only 11% of non-university graduates found themselves in better economic standing during the pandemic, compared to 31% of Americans with a postgraduate degree who saw their finances improve during the outbreak.
The poll was conducted from October 3 to Oct. 19 in collaboration with Fortune.
Read the full article at Fortune.