We surveyed 1,076 U.S. adults to determine which NFL fan bases were the most superstitious. The Buffalo Bills had the most superstitious fans (34%), followed by the Miami Dolphins (33%), the Pittsburgh Steelers (32%), and the New York Jets and the Green Bay Packers (both 31%).
The least superstitious fans were those of the Cleveland Browns (22%), the Kansas City Chiefs and the New England Patriots (both 24%).
Franchise traditions of winning or losing don't seem to affect the level of superstition around their teams.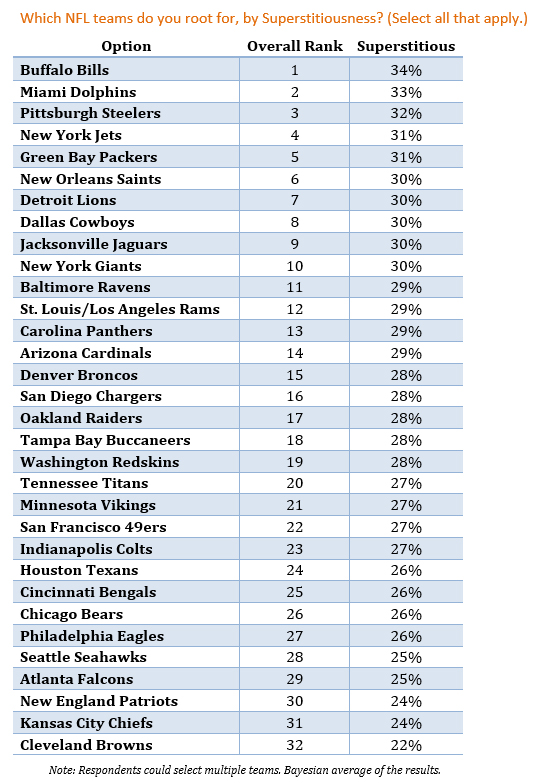 20% of people will only watch the game with certain people, while 17% said they have to wear certain articles of clothing:
"I used to have a lucky shirt, then my team went on a losing streak with it." – Houston Texans fan
"I wear my team's jersey." – Pittsburgh Steelers fan
"If I don't wear my Carolina scarf then I don't feel right and can't watch the game." – Carolina Panthers fan
"Wear the colors." – Chicago Bears fan
"Wearing my team's jersey. I have to sit up the whole game with the blinds open and everyone has to be quiet." – Atlanta Falcons fan
"Wearing or not wearing a team jersey." – Green Bay Packers fan
Some feel that they must watch the game in order for their team to win (10%), and 9% avoid saying things, such as one Detroit Lions fan who said, "Never say it's over". Another Lions fan, one that makes up 8% of respondents, said that specific foods and drinks must be had during the game, stating, "It's nothing super crazy but I always make the same food for my boyfriend when his team is playing."
While some feel they need to watch with some people, other can do without certain people, saying they will not watch the game with specific persons (3%). Other must have their favorite chair, or sit in a certain location (4%). 3% of others had a handful of other superstitions they follow:
"If I'm doing something when my team does something good, especially if they turn around a negative situation, I am afraid to stop doing whatever it is I was doing. " – Kansas City Chiefs fan
"Not to touch anyone or it will cause bad luck." – New York Giants fan
"Nothing really, we joke about someone leaving the room again if they enter and the team starts doing poorly." – Cleveland Browns fan
"Whenever there is an important play coming up, I have to stand up and run around my house first." – New England Patriots fan
Despite being a fan, 2% of respondents refuse to watch the game in order for their team to win:
"I often feel that by watching every play of a game my team will do worse, so if things are going badly I will distract myself with something else." – Green Bay Packers fan
"I try not to watch when they are down." – Kansas City Chiefs fan
Interested in more data and examples? You can download this free study, Sports Superstitions & The Big Game: How American Fans Believe They Influence Their Team's Chances, here: