Anne Aldrich of Artemis Strategy Group and Kevin Menck of Strategic Resource Partners presented a great CASRO webinar as part of a project-management series sponsored by Deltek.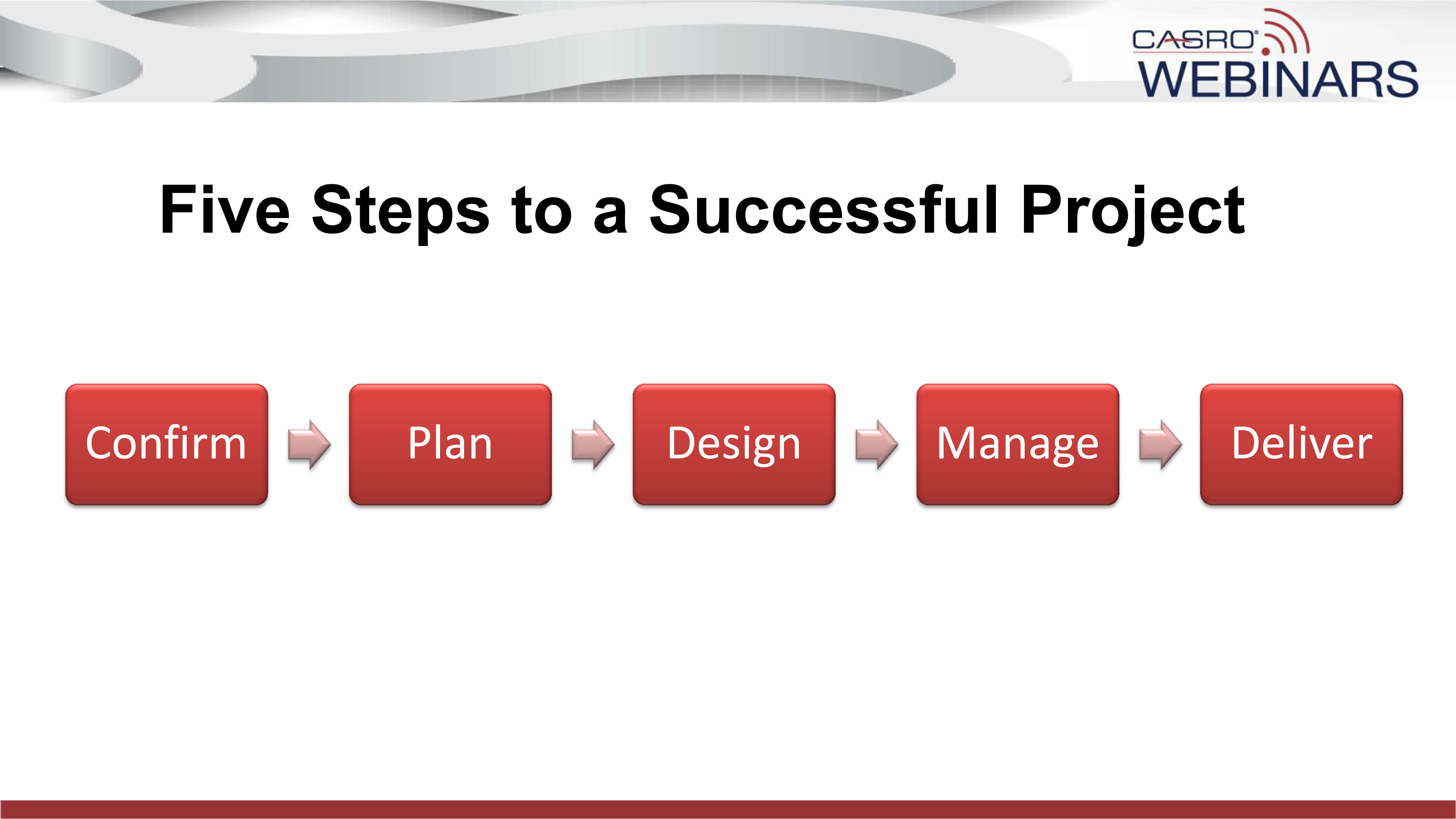 "The project is a go!" The prospect has become a client. Now what?!
Confirm – Don't start until you confirm with your client the deliverables, budget, and timing. Understand especially what is driving the timing: the need to make a decision by a deadline, a conference where results will be presented, or so forth. Think twice before committing to aggressive timing; since that might backfire, push back with compromises to the delivery or deliverables to meet the revised timeline. "Don't agree to hold the focus groups in a hotel with a dog show going on!" said Anne, recalling a commitment that came back to bite her (only figuratively!).
Plan – Key questions to ask the client, "What do you want to discover? How will you use the information, strategically internally or for thought leadership externally? Who is your audience of respondents and groups within that? Who is the audience within the client organization, and what are their agendas? How will you measure success with this study, organizationally and personally?" The impetus for the research will reveal an underlying cause to better understand what is driving the need to do the research now. Sometimes assignments with multiple objectives can pose challenges. "Whose objectives take priority?" asked Anne. "Who is the ultimate decision maker?"
Design – Just like you wouldn't build a house without a blueprint, design with the end in mind. Think about the goals when creating the discussion guide, the questionnaire, the data plan, the coding scheme for open-ended responses, the analysis plan, and the final presentation. "This cognitive step is to start imagining the final presentation," said Kevin. "What do you need to deliver to meet or exceed their expectations? Design every aspect, every instrument, every tool to achieve this."
Manage – Manage to the project schedule, using a project management tool. It can be a dedicated tool, like that of the sponsor Deltek, or the capabilities of an existing tool, such as SharePoint. Anticipate the unexpected, and have adequate resources and tools in place to meet aggressive deadlines.
Deliver – Deliver to expectations. "Establish concrete objectives, and set expectations if challenges are expected – bad news doesn't get better with age." Communicate! Work to "overdeliver" – ahead of time, within budget, and addressing all objectives.
Your best path to success is to "do all you can to make sure your client succeeds."
The CASRO webinar series is ongoing.