The GreenBook team and assorted volunteers are now hard at work on designing the next wave of this twice-annual study state of the research industry. Which reminded me that, for the 19th edition of the GreenBook Research Industry Trends Report, I had documented the attitudes and usage of automation, and it is past time I shared that here. That survey of market researchers fielded in Q1 and Q2 of 2016 and collected 2,144 responses from participants in 70 countries.
Automation Today
Automation platforms are most used by researchers today for analyzing survey data (by 42% of respondents), text (by 35%), and social media (35%), as well as for charting and infographics (41%).
Automation is least used for business process tasks including project design (19%), matching suppliers and buyers (11%), and matching talent to projects (8%). (Automated analysis of biometric data is low – 10% – primarily because usage of such data at all is still low.)
While a third of respondents already use automated sampling, many were concerned about the impact of this automation on data quality.
"Automation oversimplifies the fieldwork process; the defaults are not necessarily the right way to do things for all jobs."
"It's terrible now and the push for increased automation puts the power in hands who don't know true sampling. Focus on quality and transparency. The sampling industry has a bad reputation."
"It's the general trend: more players, more automation, less care taken."
"Too much automation…"
Current Usage of Automation Platforms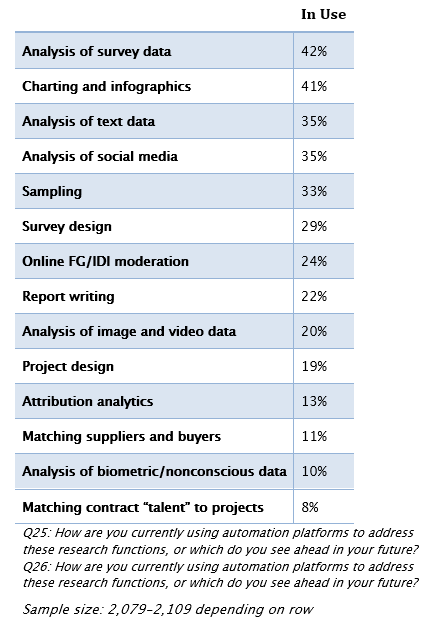 Automation Tomorrow
Plugging the full question data into our unautomated human analyst produced this forecast for when the majority of researchers will be using automation platforms for each of the following.
Forecast for Majority Adoption of Automation Platforms

This year we expect to see charting, basic analysis, and sampling all handled by automation platforms for the majority of researchers.  In 2018, automated analysis of image and video data will win over the majority, followed by attribution analytics and survey design, with automated moderators becoming the norm by October. In 2019, more of the project-oriented tasks will automated for the majority of researchers, including report writing, project design, matching suppliers and buyers, and matching talent to projects.
This forecast was prepared by assigning a year to each answer and averaging the results: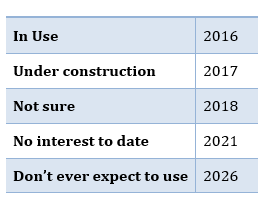 Researchers have a love/hate relationship with automation. On the one hand, 11 researchers rated firms as innovative specifically because of their use of automation. And many spoke of how they hope to use automation in the future:
"End-to-end automation including automated reporting."
"Having intelligent machines (AI) learning how to harmonize and process data faster, better, quicker."
"Photo and video automatic coding."
"Machine learning."
But on the other hand, some researchers worried about the impact on their careers and their employers. Regarding their careers:
"I think too much is made of automation and not enough of good old-fashioned thinking–whether in design or analysis and reporting.  The greatest value of the researcher is in applying their thinking skills to business problems and decisions."
"Going beyond research skills, market researchers should seriously start evolving towards data science and intelligence experts.  As more traditional functions will be replaced by automation, more on-the-job focus will fall on creative interpretation and story telling based on diverse information sources."
Fearing for their employers, some predicted automation would reduce revenues:
"Due to automation the prices for simple research and reporting will drop. However, this cap has to be filled with consulting."
"I think the industry as a whole is reaching a plateau, and continuous problems with panels will prompt a re-thinking of current approaches.  I believe we are due to hit the re-set button soon, after which things will pick up again, but with a more focused mindset, better cross-platform transfer-ability, and a lot more process automation."
Others, in contrast, saw automation as the way forward. "Projects will become smarter and more efficient. Clients expect more for less. Automation will help with this."
Automation won't be uninvented, and – eagerly or not – more and more researchers are adopting it out of necessity.