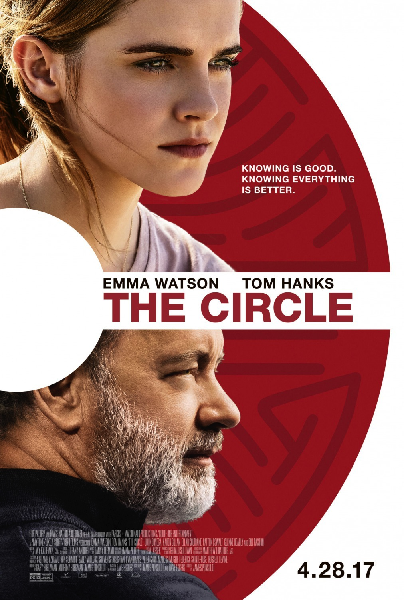 Way back in 1947, John Campbell, Jr., the editor of Astounding Science Fiction, articulated a central premise of the genre he was shaping: "To be science fiction, not fantasy, an honest effort at prophetic extrapolation from the known must be made." Dave Eggers – best known for his memoir A Heartbreaking Work of Staggering Genius – has extrapolated today's world of constant feedback and self-reporting to its frighteningly logical conclusion in his book, The Circle, now a new movie starring Tom Hanks and Emma Watson. Its heroine, Mae Holland, has just taken a job with the eponymous Circle, the social-media darling of its day, having subsumed all present and future competition to its universal login, social-network, search, and feedback management systems.
Here's Mae being introduced to Circle Surveys:
"Every time you hear the bell, you'll nod, and the headset will register your nod, and the question will be heard through your headphone. You'll answer the question in standard English. In many cases you'll be asked a question that's structured to receive one of the standard two answers, smile and frown. The voice rec is exquisitely attuned to these two answers, so you don't have to worry about mumbling or anything. And of course you shouldn't have trouble with any answer if you enunciate. You want to try one?"

Mae nodded, and at the sound of the bell, she nodded, and a question arrived through the earpiece: "How do you feel about shoes?" Mae smiled, then said, "Smile."

…Pete raised his hand in pause. "Now of course the majority of the questions won't be subject to one of the three standard answers: smile, frown, or meh. You can answer any question with more detail. The next one will require more. Here goes."

"How often do you buy new shoes?" Mae answered "Once every two months," and there was the sound of a tiny bell….

It was all easy enough to assimilate. The first day, she'd gotten through 652 of the survey questions, and congratulatory messages came from Pete Ramirez, Dan and Jared. Feeling strong and wanting to impress them even more, she answered 820 the next day, and 991 the day after that. It was not difficult, and the validation felt good. Pete told her how much the clients were appreciating her input, her candor and her insights.
Besides empaneling more and more consumers, The Circle is encouraging politicians, citizens and its employees to go "Transparent", continuously livestreaming everything they see and do from when they wake up until they go to bed. Audio is conveniently disabled for bathroom use. To battle corruption, more and more politicians go Transparent.
Of course, there are those who resist the march of history, who resent this constant threat to their privacy. "And there was a wonderful thing that tended to happen, something that felt like poetic justice: every time someone started shouting about the supposed monopoly of the Circle, or the Circle's unfair monetization of the personal data of its users, or some other paranoid and demonstrably false claim, soon enough it was revealed that that person was a criminal or deviant of the highest order."
To encourage transparency, The Circle is pioneering affordable satellite-connected webcams, which are being surreptitiously hidden everywhere. It plans to embed chips in children. It takes facial recognition further and further. It even mines the past.
Market researchers will find much in the book to make them laugh or gasp—as some of the innovations hit uncomfortably close to home. I read my wife's copy of the book after she had finished, and we kept laughing about certain extrapolations. Then we'd see something in the news and say, "That's like The Circle."
The Circle is much like many Silicon Valley companies with a curious mix of capitalism and idealism. It exhorts its employees with mantras such as:
ALL THAT HAPPENS MUST BE KNOWN

SECRETS ARE LIES

SHARING IS CARING

PRIVACY IS THEFT
Everyone's social and commercial interactions are consistently rated and ranked. Even lovers demand numeric ratings as feedback. Everyone loves feedback.
There was a newbie close to her, a man of no more than twenty-two, with wild hair rising from his head like smoke, working with such concentration that he hadn't noticed Mae standing behind him. His fingers were typing furiously, fluidly, almost silently, as he simultaneously answered customer queries and survey questions. "No, no, smile, frown," he said, nodding with a quick and effortless pace. "Yes, yes, no, Cancun, deep-sea diving, upscale resort, breakaway weekend, January, January, meh, three, two, smile, smile, meh, yes, Prada, Converse, no, frown, frown, smile, Paris."
Extrapolation. It's not just for data. It's for stories as well. In 1984, Big Brother was watching us. In The Circle, we are Big Brother.