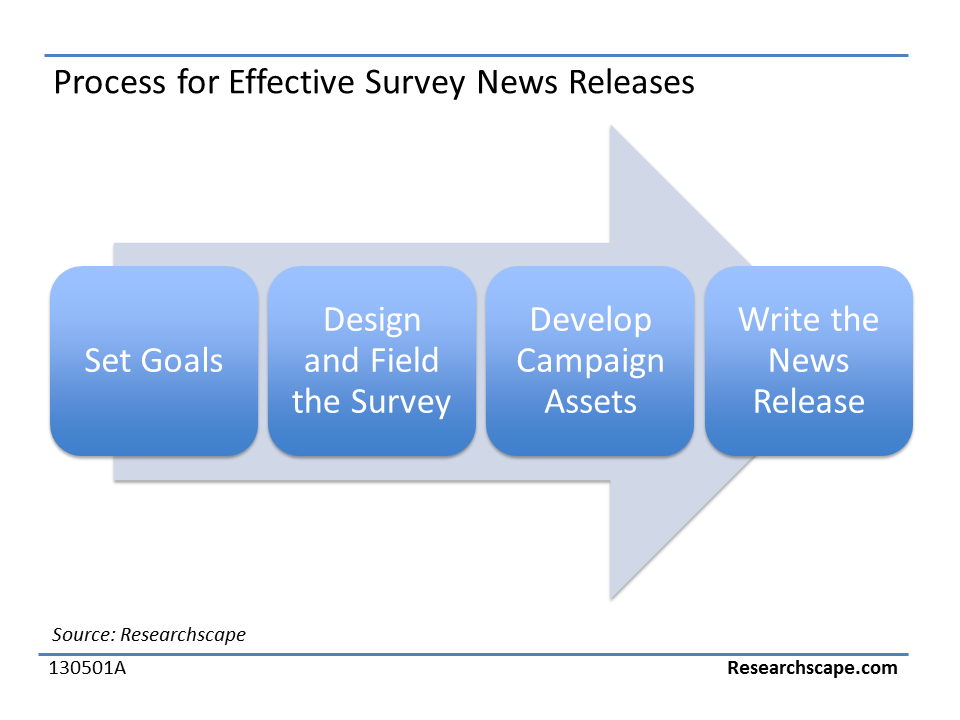 Surveys are a proven and effective method of generating publicity for organizations. For instance, Visa's annual survey about prom spending has been picked up by the Washington Post, ABC News, Fortune, NPR Marketplace and dozens of local newspapers and news stations.
Unfortunately, most publicity strategies that incorporate surveys suffer from errors and omissions that reduce the likelihood of wide media coverage. Fortunately, implementing best practices for newsmaker surveys is not particularly expensive. Researchscape conducted a content analysis of over 350 survey news releases to identify best practices and common mistakes, and interviewed reporters about their attitudes towards newsmaker surveys to develop a simple checklist that you can follow to improve the success of your publicity efforts. Our 4-step process for writing effective survey news releases includes:
Design and Field the Survey
Develop Campaign Assets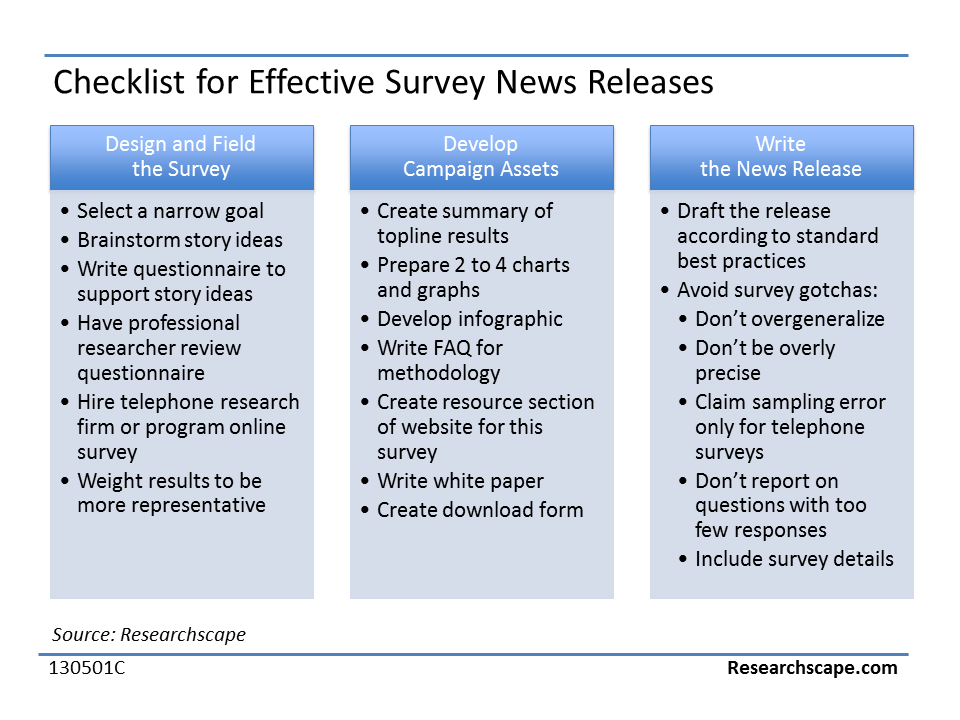 Need Help?
Survey news releases make special demands on PR staff outside of ordinary releases. Researchscape International is here to help, whether you need us to do an entire survey project for you or just give you some assistance:
Questionnaire design – We can write the questionnaire or just review the questionnaire before you field it, ensuring that it follows industry best practices on research.
Survey panel – We have a panel of U.S. consumers aged 18 and up available for affordable newsmaker surveys. We also conduct telephone surveys for those news releases where precise incidence data is essential.
Written reports – We will write a 40- to 80-page formal report documenting topline results and all key crosstabulations by demographics, attitudes, and usage.
Campaign assets – We can develop campaign assets including the white paper, exhibits and infographic.
Researchscape International has documented hundreds of newsmaker surveys and Researchscape staff have been conducting telephone surveys since 1988 and online surveys since 1996.
For more on our services, visit https://researchscape.com///newsmaker-surveys.
To download our whitepaper on this topic, please head over to the Newmaker Surveys page.