As part of an ongoing series of research into how consumers engage and identify with brands, Researchscape International surveyed 1,112 U.S. adults about satisfaction with the National Football League, perceptions of teams and quarterbacks, engagement with professional football, and their own sports superstitions and those of others.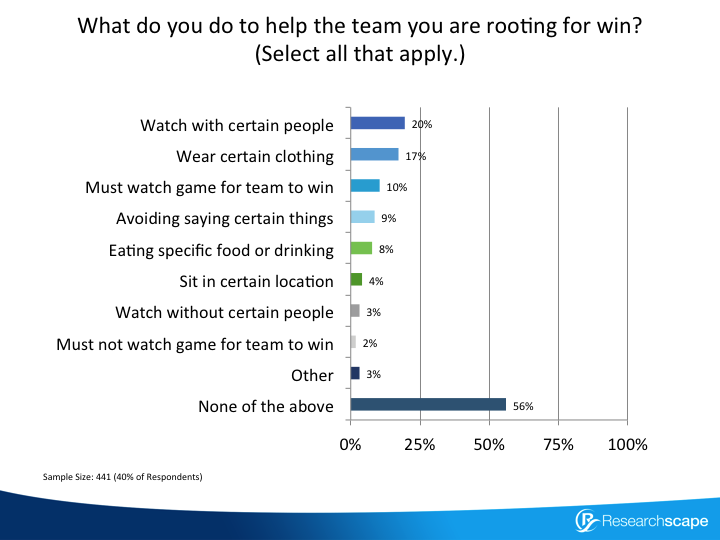 Just under half of respondents (44%) confess to taking certain actions to help the team they are rooting for win. The three most common superstitions involve watching with certain people (20%), though 3% need to watch without certain other people), wearing certain clothing (17%), and actively watching the game for their team to win (10%). And pity the 2% who must not watch the game in order for their team to win!
Fewer than one out of ten respondents worry about jinxes (avoiding saying certain things), while almost as many must eat or drink specific items. Only 4% have to sit in a certain location.
And, of course, 56% believe that nothing they do helps the team they are rooting for win.
Sample comments from the 56% who don't do anything to help their team to win:
"I don't have a sports superstition. I just watch the game and whoever wins, wins because of how they played, not anything that I do at home."
"I have no superstitions. Games are won by the players and coaches, not by my superstitions."
"None really, I just try not to get too excited when we're ahead and not too sad when we're losing."
"None, I am not superstitious."
"None, I don't believe in superstition."
"None! I watch the game and enjoy it all, no matter who's winning."
"I think it's silly and that none of that can affect the outcome."
Of course, some were a little nervous and weren't quite as rational as they claimed:
"None, except don't celebrate too early."
"I have absolutely none. Truth is I always feel if I do 'any' routine that alone might jinx it, so I stay neutral."
"I don't have superstitions. I have routines that we laugh about."
"Nothing really, we joke about someone leaving the room again if they enter and the team starts doing poorly."
"I don't really think anything I do affects the play, except maybe if I buy tickets and attend."
9% avoid saying certain things:
"Never say it's over."
"I have to sit up the whole game with the blinds open and everyone has to be quiet.
While 8% eat specific foods or drink, beer didn't figure prominently in any of these answers:
"It's nothing super crazy, but I always make the same food for my boyfriend when his team is playing."
"I always eat the same food while watching a football on the day of a big game…pizza bites."
6% of respondents in open-ended comments focused on "lose":
"Having doubt in my team will make them lose."
"If I began vomiting before games, I believed. We would lose if I didn't.
"If I watch when they are beginning to lose they will continue to lose. I thought I was the only one with these superstitions!"
Miscellaneous responses:
"Whenever there is an important play coming up, I have to stand up and run around my house first."
"Not completely relevant, but I used to watch basketball, and my sports superstition was that I could cause the opposing team to miss free throws by visualizing a miss."
"I will put my NY Rangers flag out in front of my house the day of each playoff game."
"Cheer for them during game."
"Listen to the game on the radio."
"Best of luck on social media."
"Cheering out loud at the TV."
"Leave room if play is bad or stay in room if play is good."
"Having doubt in my team will make them lose."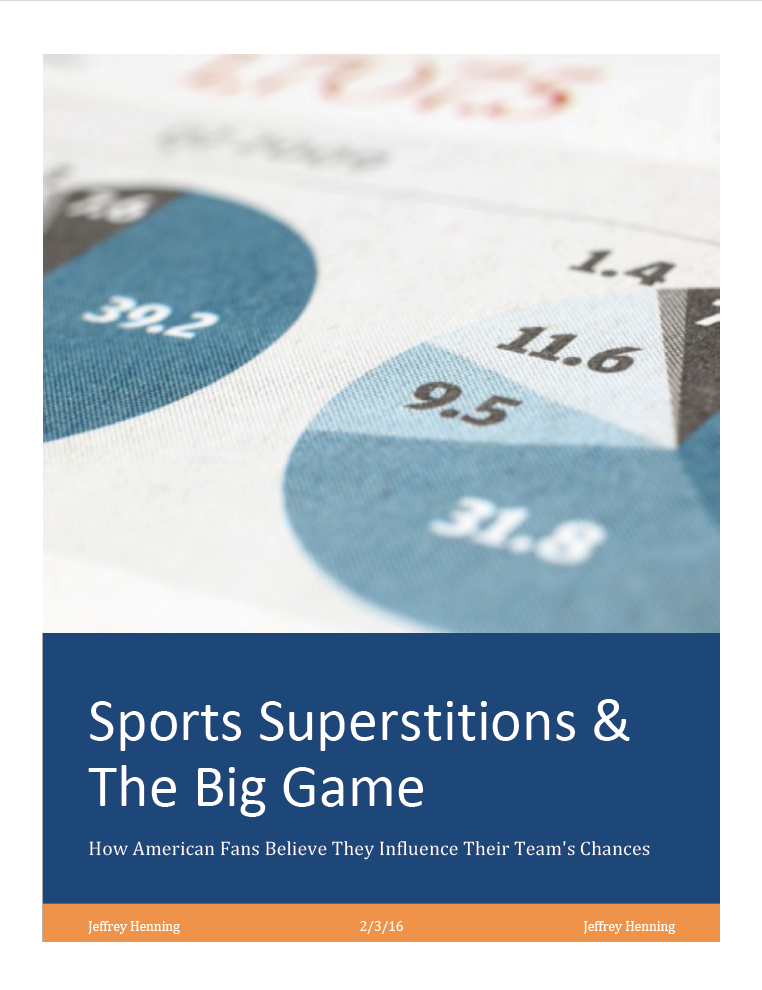 This is an excerpt from the free Researchscape white paper, "Sports Superstitions & The Big Game". Download your own copy now: