New to this wave, the GreenBook Research Industry Trends survey went beyond its traditional look at research training and education to focus specifically on the Masters of Marketing Research (MMR) programs in the United States. The survey was fielded in April, 2017, and collected 2,637 responses from market researchers worldwide.
Surprisingly, the majority (53%) of researchers are not at all familiar with MMR programs. In fact, only one out of ten are very or extremely familiar with such programs.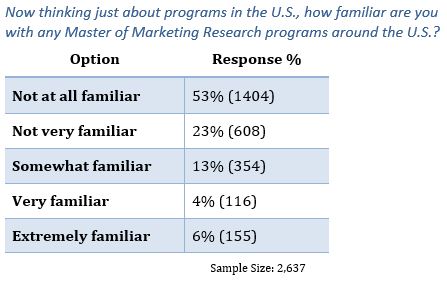 In an unaided awareness test, 39% of the small subset of 166 respondents who could venture an opinion on the strongest MMR program named UGA the strongest U.S. program, while 11% named the University of Wisconsin strongest, 9% named the University of Texas, and 7% named Michigan State University.
Respondents were then asked to rank seven established Master of Marketing Research programs, based on their own perceptions. A plurality (44%) of researchers said that the University of Georgia has the number one MMR program. Michigan State and the University of Wisconsin at Madison were also highly regarded: ranked number one by 18% and 14% of respondents, respectively.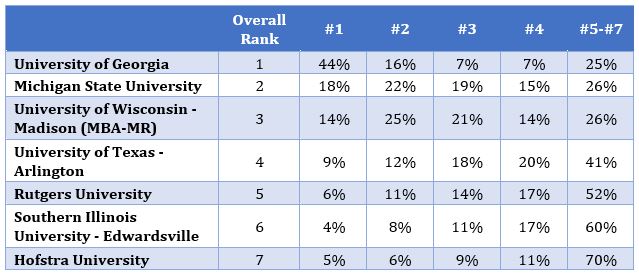 Skillsets for MMR Program Graduates
Critical thinking skills are the most important skillset required for MMR program graduates, being rated very important by 73% of respondents, with six out of ten (61%) rating insight development skills as very important, and nearly as many (59%) rating writing/communication skills as very important.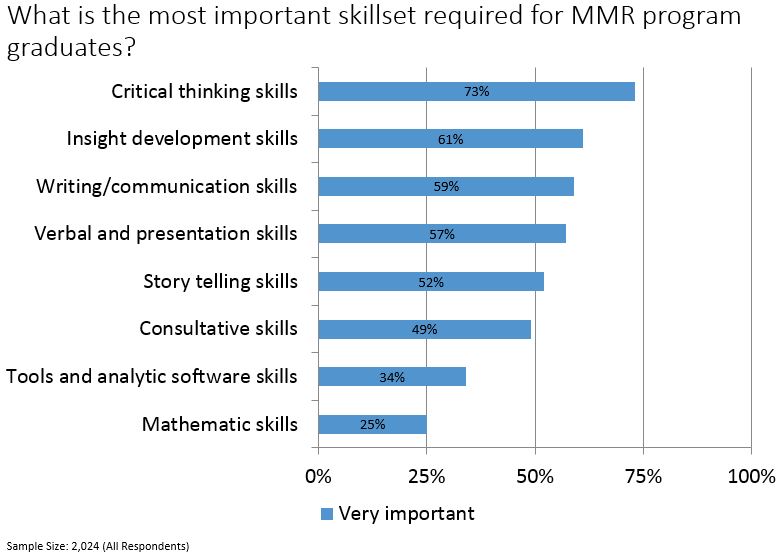 How important is it that a student who graduates from a post graduate Market Research program have the following skills: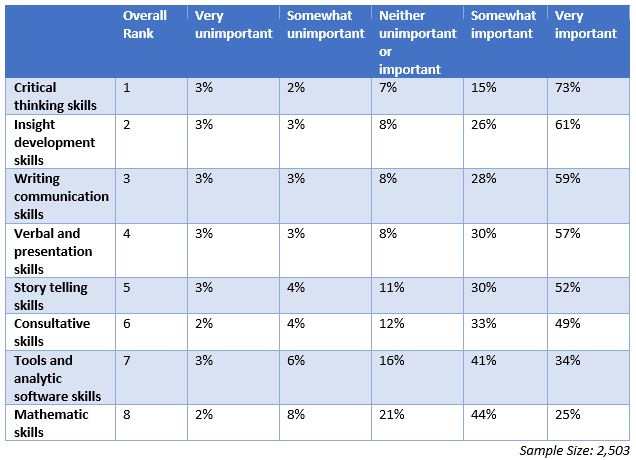 An open-ended question shed more light on these skills: "What do you feel is the most important characteristic of a successful Market Research post graduate educational program?"
Some comments on critical thinking:
"Teach writing, which helps with critical thinking. The quality of writing–and critical thinking–in much of the business world is appalling. That's why you see so many PowerPoint reports, which I consider lazy and lacking in real insight and analysis. It has become 'all about the graphics' because graphics are easy. Writing is hard."
"The ability to train strong critical thinking with enough real-world case study training so that researchers can hit the ground running when joining a firm."
"Reinforce critical thinking of research and develop capability in data utilization."
Others went further on the need for strong writing as part of the skillset, discussing not just report writing but questionnaire design as well:
"Writing. Everything else can be taught, but writing has to be learned."
"Teach basic skills and work hard on writing ability."
"Mentoring and focus on statistics and writing skills."
"Liberal arts skills of communication, understanding influencing, writing, leadership. Not just tech stuff."
"That students conduct an independent research project, doing interviews, analyzing data, writing a report."
"Ensuring graduates know the basics of research, basic survey design, survey writing, analysis, report generation and report writing. Also, a basic knowledge how business works, how data is used."
"Lots and lots of applied training – survey writing, coding, cross tabulation, analysis, and…writing up the insights. All are important. Too little time spent on each."
While the lack of storytelling and consultative skills are frequently lamented in the pages of research blogs and from the stages of research conferences, only about half considered each skill to be very important for MMR graduates (52% and 49%, respectively). Some of the comments on storytelling:
"Thinking big-picture and teaching students how to 'see the story' in data, and how that relates to real-world problems and issues."
"Understanding your audience and being able to tell a story with the data in a digestible manner that will lead to business decisions."
"Generation of insights and storytelling. Data is useless unless we can tell a story with it."
"Getting people to think analytically and create a story out of their work/research."
"Analytics and data visualization – be able to tell the story and what the client should do with the results."
"Learning to distill information into brief story."
"Teaching how to tell the story from large data sets."
"Data analysis and story writing."
On consultation:
"Teaching how to apply appropriate research methodologies and interpret results with a consultative approach."
"Reinforcing the need to think as a consultant."
"Learning the consulting role."
"Grounding professionals in market research principles, methodology, and consultative skills."
"Creating consultative thinkers who can also manage multiple projects."
Mathematical skills were the least important, rated very important by only a quarter of respondents. Interestingly, given the reliance by even those with math skills on analytics tools, skill with those tools were only very important to a third of respondents (34%).
You can download the full GRIT report from GreenBook.