InSites' CRUSH Model Correlates to Generation Y Brand Leverage
Joeri Van den Bergh (@Joeri_InSites), co-founder of InSites Consulting and author of How Cool Brands Stay Hot: Branding to Generation Y, shared the results of his research in a webinar yesterday.
InSites surveyed 5,000 Generation Y members around the world about their attitudes towards brands; InSites defines Gen Y as those currently aged 13 to 29 years old. Participants were asked to write a story about one of their favorite brands; InSites then text mined the responses. Based on this and other research, InSites developed its CRUSH Branding model to identify the five critical success factors of brands targeting Gen Y.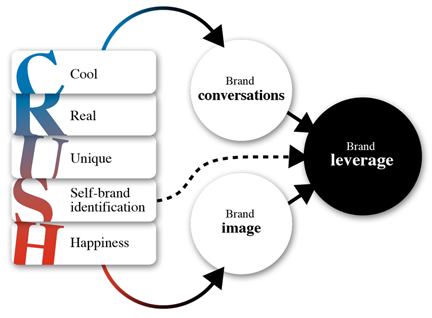 Here's what the acronym stands for: Cool, Real, Unique, Self-identification, and Happiness.
Cool – Where for earlier generations coolness was often about the exclusive, for Gen Y consumers it is more inclusive, fostering togetherness, social sharing and even cosmopolitanism.
Real – Gen Y consumers can be cynical, and they look for authenticity in brands differently than older generations do. Instead of expecting brands to be true to their origin, history and heritage (the classic definition of brand authenticity), they want brands that are honest with themselves, with consumers and with society.
Unique – A brand has to offer something different than other brands to resonate with Generation Y consumers: for instance, the fashion discount retailer Forever 21 changes its collection on a daily basis, offering the ongoing lure of novelty.
Self-identification – Brands need to develop elements in common with their target consumers' lifestyle: Red Bull has different initiatives to appeal to fans of extreme sports, music, racing and the arts.
Happiness – Of the 5,000 brand stories, 73% mentioned one or more emotions but only 29% mentioned a product characteristic. Clearly, emotions trump features. In a separate exercise, where respondents categorized a story they had written, happiness was the most referenced emotion, followed by sadness (which can be construed as the absence of happiness).
To validate the model, InSites had consumers rate brands in 15 different categories on each of these 5 dimensions. Brands that rated higher on the CRUSH model had more brand conversations (R2 = .57), stronger brand image (R2 = .74) and greater brand leverage (R2 = .62). InSites analyzed its research results by 60 different regions and found the model held up with minor differences: for instance, Cool is more important in the U.S. and Russia than in other markets, and Real in China is more spiritual.
If you're marketing to 13 to 29 year olds, you'll definitely want to read the book or use the InSites CRUSH self-assessment tool.