In the U.S. and Canada, from 2010 to 2011 the number of 3D screens increased 61% and the number of 3D film releases increased 73%, yet revenues for 3D movies declined 18%. This reversal follows three years of dramatic growth.
IHS Screen Digest estimates that the number of 3D cinema screens in the U.S. and Canada grew from 8,505 screens in 2010 to 13,695 in 2011.
Rentrak Corporation reports the number of 3D film releases climbed from 26 in 2010 to 45 in 2011.
The MPAA (Motion Picture Association of America) estimates that the box office for 3D movies in the U.S. and Canada dropped from $2.2 billion (U.S. dollars) in 2010 to $1.8 billion in 2011. This is a dramatic turnabout from the doubling of 3D revenue in 2010 (driven by the success of Avatar, which was released in December of 2009 and had $761 million in U.S. and Canadian box office revenue).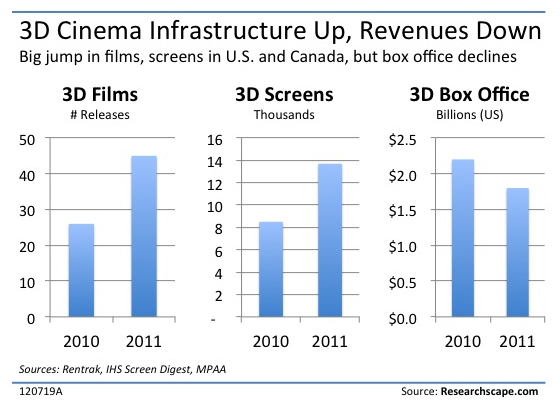 3D Movie Attendance
While 3D box office revenue represented only 18% of the $10.2 billion box office, 51% of U.S. and Canadian moviegoers saw at least one 3D movie in 2011, according to a dual-frame RDD sampled survey conducted for the MPAA by ORC Research. Younger moviegoers were more likely to have seen a 3D movie than older moviegoers and saw more 3D movies on average.
The majority of 12 to 24 year olds in the U.S. and Canada saw a 3D movie in 2011 and on average saw at least 2 such movies.
3D Backlash
Researchscape manually coded the sentiment of 60 unique tweets about 3D movies, which revealed that 83% of the tweets were negative. Common complaints:
Viewing 3D movies causes some moviegoers headaches, eyestrain or dizziness.
The 3D effect doesn't improve most movies.
It's just a Hollywood gimmick.
3D reissues of movies prove that Hollywood isn't creative.
The movies often fail to look three dimensional.
The movies are more expensive to attend than 2D movies.
Moviegoers dislike wearing the glasses.
Tweets were downloaded from Twitter on July 14 and excluded retweets and tweets containing links.
Looking at the UK market, Mintel reports:
30% of respondents believe 3D technology improves the viewing experience
20% of moviegoers consider 3D movies to be worth the higher price (in the UK, 3D movie tickets can cost up to 40% more than 2D movies and moviegoers must pay an extra £1.50 for 3D glasses)
75% believe 3D glasses should be included in the cost of the ticket
(All numbers are rounded. Mintel did not report specifics about the survey methodology.)
2012 Outlook
The decline in 3D viewership is expected to continue for 2012. While overall 3D box office numbers are not yet available, the percent of U.S. 3D box office revenue that leading movies take in is on the decline, according to The Hollywood Reporter and Indiewire. From the high watermark of 83% of receipts being for 3D for Avatar, 3D receipts declined to just 32% for Brave so far this summer.
Looking at UK cinema, Mintel expects 3D box office to stabilize in the coming years at between 25% and 33% of total box office revenue.
References
Hollywood Reporter, "Box Office Mid-Year Report: What's Worrying Hollywood", 11 July 2012, Pamela McClintock.
IHS Screen Digest, "Cinema screen infrastructure", 14 March 2012.
Indiewire, "A Genuine Tragedy: Jeffrey Katzenberg Calls 3D Box Office Dip 'Heartbreaking'", 10 June 2011, Edward Davis.
Mintel, "Cinemas – UK – June 2012", June 2012, Michael Oliver.
Motion Picture Association of America, Theatrical Market Statistics 2011, 28 March 2012.
Rentrak, Box Office Essentials, March 2012.
Telegraph, "3D films are overpriced and over-hyped, Mintel finds", 14 July 2012, James Hall.